Antique Boulle Furniture: A Short History
The term 'Boulle' was taken from the surname of it's most skilled artisan André Charles Boulle (1642–1732). Boulle was a cabinetmaker, sculptor and gilder to King Louis XIV of France, and from 1672 he was granted the royal privilege of living in the Palais du Louvre.
'Boulle' work refers to the practice of overlaying furniture with a thin layer or tortoiseshell that is inlaid with brass and pewter in opulent patterns and elaborate designs, as shown in the Louis XV style boulle clock, circa 1870 (above).
Boulle work, although requiring great skill and expense, became such a fashionable means of finishing furniture that its use continued through to the 18th and 19th centuries. Whilst Boulle's original work resides in the most important international collections and museums (including the Royal Collection, Chateau de Versailles, and the Rijksmuseum) you can still find pieces of Boulle work by later cabinet-makers which are often of similar quality (especially as so many copied Boulle's technique and style).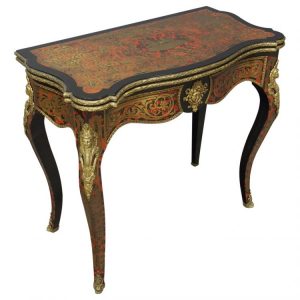 19th century pieces like this serpentine front games table capture the essence of André Charles Boulle's work perfectly; with classical designs in brass inlay to the top and on the exhibition quality figurehead ormolu mounts. The red tortoiseshell background is accentuated by ebonised sections of the exterior, and it opens to a baize-lined interior.
You can see our range of Boulle furniture here.