Georgian Antiques, Edinburgh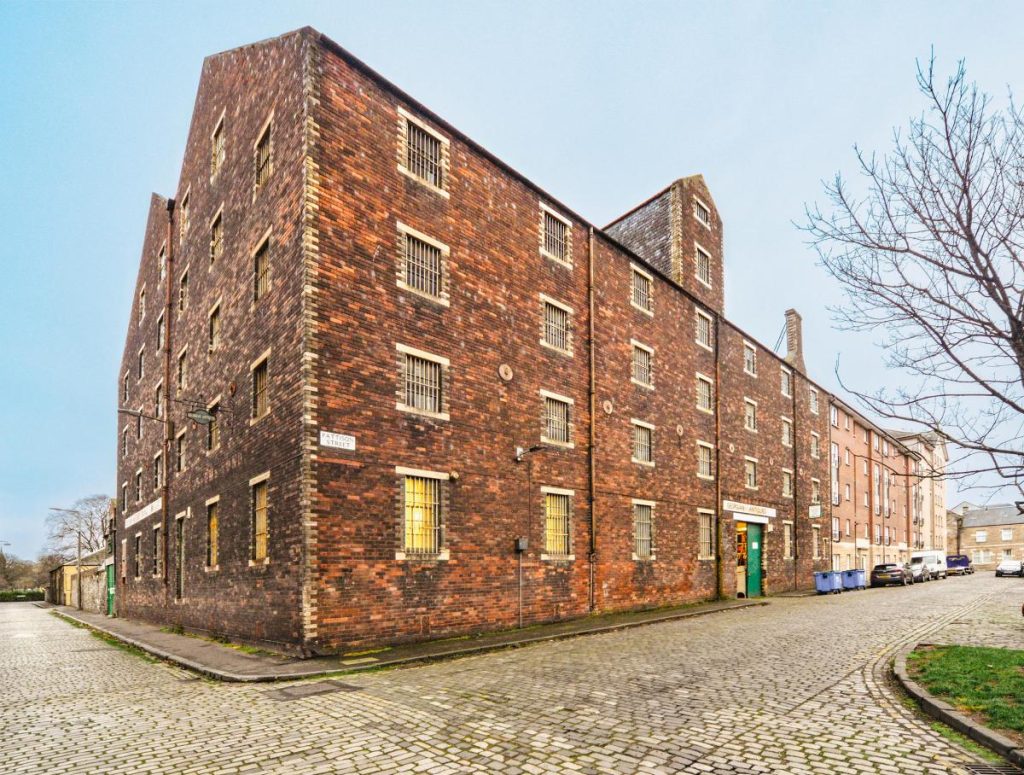 Georgian Antiques was started in 1978 by Padraic Dixon in a small premises at Jocks Lodge, Meadowbank in Edinburgh. His brother John Dixon joined the business in 1981, and we moved to another small premises by Holyrood Park. As the business expanded rapidly we acquired 4,500sq feet at Windsor Place in Portobello in 1983.
Soon, we were on the lookout foreven more space and during the famous Guinness takeover we acquired our current premises of a former Abbots Choice whisky bond in 1985, with over 50,000sq feet over 5 floors. We also have a back up warehouse nearby which comprises of 3 floors and gives us an additional 28,000sq feet of space!
One of the largest selections of antiques in the United Kingdom
We now offer one of the largest selections of antiques in the United Kingdom, and are the mecca for interior designers, the general public and the trade. This is the place to find anything from a prop for a television commercial to that special item of furniture for the home.
We are so lucky to have a fantastic team of 18 full and part time staff comprising of cabinet makers, French polishers, porters and dedicated sales staff. With a personal approach, friendly advice and efficient after sales care we ensure you find the antiques or works of art to suit your taste and budget, including the option of trying items in your own home prior to making any final decisions. Not only is our stock vast and varied, but also constantly changing, so it is well worth paying returning visits to the showroom or website. Click here to contact us or to plan your visit!
---
Local, national and global antique delivery
As well as delivering around the local area, we have frequent deliveries to London and can arrange shipping anywhere in the world. Please contact us with your postcode / zipcode and we will get back to you with a quote.
If you would like any further information or are looking for anything in particular please contact us and we will get back to you.
The Association of Art & Antique Dealers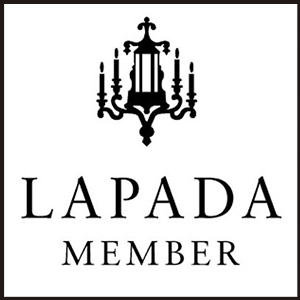 LAPADA is the largest professional trade association of art & antiques dealers in the UK. Over 500 dealers represent expertise across the entire spectrum of art and antique items: furniture, fine art, carpets, tapestries, antiquities, clocks, ceramics, decorative objects, silver and jewellery.
---
Customer Reviews
The candlesticks have just arrived and in perfect condition. They're charming and I'm very pleased with them . . . many thanks for shipping them for me.

Nicholas, UK – November 2023
The oak shelf has arrived and it's even prettier than I'd hoped. Thank you so much, I'm thrilled with it. Couldn't be any happier!

Emma, UK – November 2023
Thanks for coordinating with us the delivery last week. The writing table works perfectly in the flat and looks great!

I look forward to visiting you again and finding some things to ship to my home in the United States!

Nicholas, UK/USA – October 2023
The beautiful Demi-lune arrived this afternoon, impeccably delivered. I am delighted with it – thank you so much.

Annabelle, UK – October 2023
The map has arrived, it is excellent, thank you very much.

David, UK – August 2023
Mirror arrived safely. Looks lovely. Just got to get it hung now!

Ian, UK – August 2023
The desk is well received and assembled; it looks even more beautiful than in the pictures!

Youssef, France – June 2023
Just to let you know, the parcel arrived safely. I am very pleased with these candle sticks. They look lovely.

Matthias, UK – June 2023
Just took delivery and I could not be happier, really beautiful piece of furniture.

Uli, UK – May 2023
Just to say that the tables are FANTASTIC, (even nicer than I imagined) in person !!

I am very happy I bought them so huge thank you.

Daphne, UK – May 2023
It [bronze bust] is here safe and sound.

Many thanks for the efficient service.

Andy, UK – April 2023
Would like to thank you so much for getting the mirrors safely delivered to me last week (and beautifully packed).They look even better than I had envisaged and I am most grateful for all your help.

Josephine, UK – March 2023
We received the hat and coat stand safely today. It's lovely, I'm delighted with it.

Allison, UK – March 2023
Received the wardrobe yesterday and it looks great, very pleasedwith it, thank you.

Olly, UK – March 2023
Bookcase has been delivered. It looks perfect in our study! The fun part will come tomorrow – and that's decidingwhich books will be housed in it!

Michael, UK – February 2023
I just wanted to drop you a note to say we are delighted with the table- it looks super in situ.

Thank you for also for such fantastic service- we obviously deal with a lot of dealers and your helpful attitude was over and above and we really appreciate it- we will be back for more soon!

Sarah, UK – January 2023
Item{s} received just fine. Satisfied beyond expectation. Thanks again for your open minded patience.

Ray, USA – January 2023
The Child's Chair arrived today in pristine condition and has taken a place of honor in our house, complete with a ceramic doll.

Thank you for all your efforts to make her birthday a memorable one.

James, USA – January 2023
The pictures on the web did not do justice to the cabinet.

I am really pleased to have acquired this cabinet – it is excellent. The quality is very good, solid wood and weight. The bevelled glass adds a completely different but really nice feature and adds character to the piece.

The delivery was also in time. So, overall, I am a very happy bunny, please pass on my thanks

Sanjiv, UK – November 2022
My chair arrived safely today all most efficient. I just want to thank you for all the help, it was a pleasure to deal with you and the chair is splendid!

Simon, Netherlands – July 2022
Just a quick email to say thanks. My cabinet arrived this morning and I'm delighted with it, even better in person! Its been a very positive buying experience I'll definitely be returning custom again when I can.

Rory, Ireland – November 2021
Thank you, and to both the team yesterday, for the safe delivery of my bookcases. I have found your end-to-end customer (and then delivery) service very courteous as well promptly helpful on each occasion I had a request or a question. The whole experience has been very pleasant and the furniture looks good in situ.

Matthew, UK – October 2021
We Received our rocker yesterday. It's prettier than expected. Thanks so much, we love it.

Gilly, USA – September 2021
Lamps safely received. I was thinking I was a bit mad to spend so much money on lamps but they are perfect! Thanks so much.

Emma, UK – September 2021
These [Orkney chairs] have arrived and are spectacular!! Thank you so much!

Jeanette, USA – January 2021
It [a canterbury] is perfect and therefore I also wanted to thank you for the splendid packaging that denotes care and attention for the objects.

Giuliana, Italy – December 2020
I got it [a chaise longue] yesterday and I love it! It's gorgeous and considering its age, in a good condition. Thank you very much!

Arleta, Poland – June 2020
Just to let you know, the bookcase and chair arrived this afternoon. We are delighted with them – the bookcase is a perfect fit in my husband's study and the chair goes well with his desk. Can I also add how brilliant the delivery company were – the communication was fantastic and they even helped us move the bookcase into place. Thanks so much – I'm sure we will be in touch again regarding further antiques.

Katie, UK – June 2020
We have received this afternoon the items we bought. Everything is already in place, being filled with books and files. We wish to thank you for your help and efforts to ship everything on time and packed diligently and safely. It was nice doing business with you.

Arnoud and Caterina, Netherlands – June 2020
Many thanks for the delivery of the beautiful clock, which is a great hit with my wife (she took a photograph of it and sent the image to several close friends). You'll be pleased to hear that it keeps excellent time and that the chimes needed no regulation.

Gerald, UK – May 2020
You've provided us with a first class service from start to finish (special mention to your courier also!) and I wouldn't hesitate in buying from or recommending your excellent business in the future.

David, UK – March 2020
Greeting from Taiwan, I have receive the four nest of tables safe and sound, thank you very much. The packaging is very nice and my family loves the tables.

Brian, Taiwan – February 2020
I am very happy to report that the statues arrived safely and have a new home. I had no idea they would arrive so quickly. Thank you for all your help. They are perfect.

Lachlan, USA – December 2019
Dear Georgian Antiques Team, Thank you very much for the perfectly packed large wooden box, which permitted the coffee table to arrive here in Germany in perfect health, with no damages. Your beautifully carved mahogany coffee table has found a wonderful new home with us.

Bernd and Manuela, Germany – November 2019
Just to let you know that the table and mirror arrived safely and soundly . Thank you for your kind attention to detail- in descriptions , packing , arranging delivery etc. We are really pleased with them.

Colin, UK – June 2019