The chest of the drawers is one of the most iconic pieces of Georgian furniture. It superseded the previous custom of storage in trunks, colloquially called 'kists' in Scotland. Most early Georgian chests were made of oak or oak veneered with native woods such as walnut, and rarely more exotic examples were veneered with laburnum.  With the introduction of mahogany in the early 1700s, it became the most desirable wood for making these chests, which only the upper classes could then afford to have made by specialised cabinetmakers. Relatively few Scottish Georgian chests were made and they are recognised as being of the highest quality.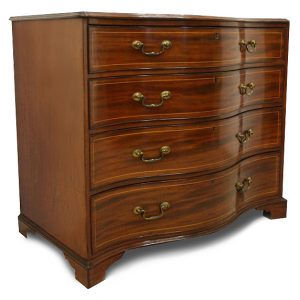 Georgian chests come in many styles, usually with a flat front but less commonly they had bow (demi-lune) fronts. Serpentine fronted chests which take a lot more craftsmanship and work are the rarest examples. Smaller examples of chests are very desirable, and many of these have a brushing slide over the top drawer which were used for brushing clothes, or rarely a fold over top which could also be used as a writing surface – also known as bachelor chests.
There are also common regional variations. Most of the English George III chests, the period in which the largest quantity were made, had a configuration of two short over three long graduating drawers.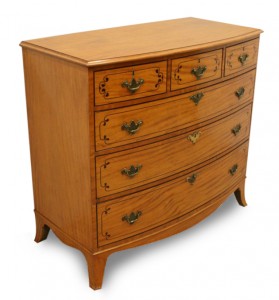 A more common Scottish variation was three short over three long graduating drawers. The chests generally sat on bracket feet, that evolved towards the end of the Georgian period into a slim out swept foot termed a French bracket foot, particularly on bow fronted chests. Some of the more exclusive chests had  carved, moulded 'ogee' bracket feet.
Georgian chests of drawers have the charm and character that a good period piece has from years of use and waxing. Even though these pieces are over two hundred years old, many are still in excellent condition and would grace any home, including hallways and smaller Georgian chests make useful lamp stands for lounges. There is no reason why they will not last another 200 years!