The Furniture of Sir Robert Lorimer
(Robert Lorimer at work in the office of Sir Robert Rowand Anderson. Painted by his elder brother John Henry Lorimer, 1886)
Sir Robert Lorimer is to Edinburgh what Charles Rennie Mackintosh is to Glasgow. Lorimer's impressively vast body of work covered the length and breadth of Great Britain, as well as venturing into Europe. Here at Georgian Antiques, we love the furniture he designed.
Lorimer chose certain companies to manufacture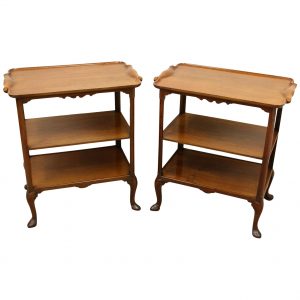 his furniture and with these companies, he developed loyal and long-lasting relationships – most notably with Whytock & Reid of Edinburgh. He was also involved with other companies and people such as Wheeler's of Arncroach and Scott Morton for furniture; Thomas Hadden for steel works; Phyllis Bone for sculpture amongst many other firms that were entered into these great, long relationships to execute Lorimer's  designs.
It was a common attitude for many great architects to be distanced from designers, their work being treated as somewhat distinct. Lorimer, however, was a complete interior designer-architect, and followed the construction of his work with meticulous interest. When it came to his furniture, he specified many details in regards to how it should be crafted, including the type of wood that was to be used; how the wood was to be cut; and exactly how the construction would take place so that the finished product would be exactly as he envisioned it.
Much of Lorimer's work was in the construction and renovation of great Scottish and English houses, as well as churches. He possessed the artistic and architectural capabilities that allowed him to move between ecclesiastical work and domestic work.
Lorimer had several hundred commissions in his time – from minor renovations to major builds and refurbishments. Lorimer's work on war memorials (in particular his memorial near Edinburgh Castle) is outstanding, and his design of Thistle Chapel in St Giles' Cathedral is stunning. From the moment one enters it, one is completely overwhelmed by the sheer amount of detail contained within in it – from the furniture to the lighting and the most beautifully carved piece of ecclesiastical furniture one has ever seen. This is always an essential sight to visit when in Edinburgh.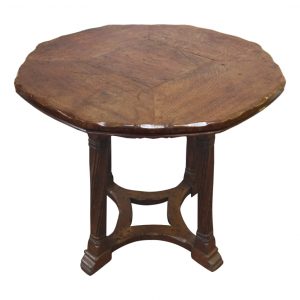 Lorimer's greatest collections are in the hands of the National Trust for Scotland, but for the main biographical authority on Sir Robert Lorimer, it doesn't get much more comprehensive than Christopher Hussey's The Life and Works of Sir Robert Lorimer. Other renowned experts on Sir Robert Lorimer include Elizabeth Cumming, Ian Gow and Dr. David Jones at St Andrew's University.  There have been various pamphlets written on Lorimer's work, notably by Lindsay Macbeth Shen. Although only a few pieces of furniture feature in this pamphlet, these pieces never fail to stand out as beautiful objects of extremely fine quality.
In our opinion, the most iconic and quintessentially Lorimer piece of furniture ever made is his centre table which he produced drawings for in February 1913. This table has a segmented top and a chamfered edged top, quarter-sawn oaks, peg joints, and a long, slow-twist leg – the latter of which became a symbol of Lorimer works. This design must have been a favourite with Lorimer, as it reappeared in much of his work.
Establishing whether a piece of furniture is Lorimer, or not, can be highly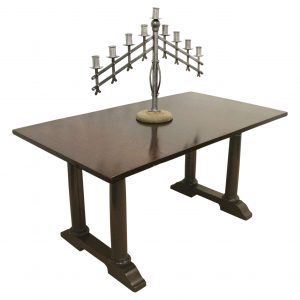 problematic. Lorimer did not manufacture furniture for retail – his designs were commissioned for projects that he was involved in. Because his work with Whytock & Reid spanned over such a long period of time (roughly 30 years) often Whytock & Reid pieces appeared very similar to those designed by Lorimer. Such was the strength of their relationship that it is near-impossible to distinguish between a good piece of furniture made by Whytock & Reid and a fine piece of furniture designed by Lorimer.
Lorimer even had the great privilege of designing the tables for the famous Liberty and Co. shop in London, in 1924.
We have a section in Georgian Antiques which is dedicated to Scottish furniture, with a special emphasis on the works of Sir Robert Lorimer, Whytock & Reid, Morrison, Mein of Kelso and John Taylor amongst other renowned firms from Scotland. The majority of furniture in this area is by Whytock & Reid along with several smaller pieces by Sir Robert Lorimer.