Scottish Clockmaking: A Brief History
From the 15th century onwards public clocks had been erected in the squares and local spaces of larger towns around Scotland, from Peebles to Dundee. The mechanisms of these early clocks were produced overseas, and it wasn't until the late 15th century to early 16th century that British clockmakers became competent in making and repairing clocks. As the practice developed, an area in Edinburgh was dedicated to their trade, Clock Maker's Land in the West Bow, which most notably housed the workshop and residence of the watchmaker and horologist Paul Roumieu, 1677-94. His craftsmanship has been recorded in documents of the time, praising the quality of his movements and pieces.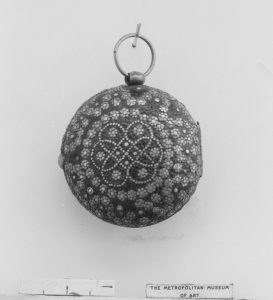 This example of a timepiece by Roumieu resides in the Metropolitan Museum of Art, New York collection.
Scotland has produced some prolific clock makers since then, and here we will see how their clocks have developed over time.
John Gibson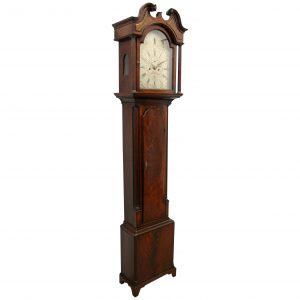 John Gibson was active in Edinburgh from 1758-80 and was the bound apprentice to the watch and clockmaker located in Nether Bow, Edinburgh, Daniel Binnie (recorded as active from 1747-79). The Edinburgh Evening Courant mentions Gibson's work on 1st October 1808:
'Valuable Musical Clock For Sale… Made by John Gibson, an eminent maker in this city, and is mounted in an elegant mahogany case… This clock would be a great acquisition to the hall of a mansion house'
We have an example of a Gibson longcase clock at our warehouse (as seen above), and it is a brilliant example of his skill at his trade.It is a typical example of an Edinburgh longcase clock, with a horn top, flame mahogany door, and mahogany case. Dated circa 1775, the silver face has been engraved and blackened, with John Gibson, Edin. below the hands, and features a calendar and Roman numerals.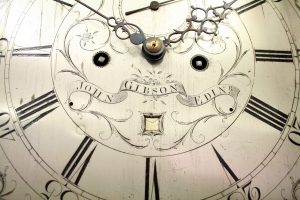 Engraved to the face are sea horses or hippocampus, with the upper body of a horse and the lower body of fish and webbed paws. These mythical creatures have been seen in similar designs on heraldry since the Renaissance.
The raised pediment to the top of the clock would have been surmounted by a sphere or gilded eagle, and at each side of the door are tapering columns. It all stands on squat bracket feet.There are often variations across Edinburgh longcase clocks, including the inclusion of fretwork, or capitals to the top of the columns. Outside of London, Edinburgh longcase clocks were desirable because of their sleek, elegant look and thin, long door. We have several other examples, including: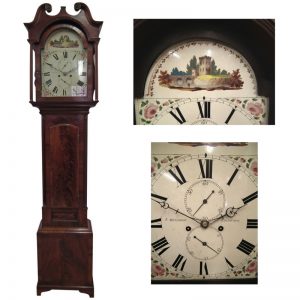 George IV Grandfather Clock by J. Melrose, Edinburgh – operated from the Canongate or Nicolson Street in Edinburgh, circa 1826.
In the late 19th century, appreciation of clocks grew, and resulted in a demand for the best examples of the trade. Jumping forwards to recent times, there have been efforts to emphasise the value of UK-made clocks, especially in a market flooded with internationally made examples. We have a longcase clock by Alan Hamshere, completed in 1984, which featured in the exhibition Clock and Watchmaking Today at the Prescot Museum of Clock and Watchmaking in 1985.
Clockmaking Today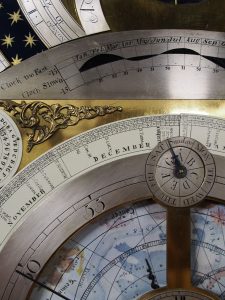 With a case veneered in birds-eye maple wood, and a weight driven movement, the clock has a dial divided into two parts: the lower part has a ring with 12 months of the year, the upper part is similar. The sophisticated dial has several functions and to fully comprehend its movements you would need to talk to Alan himself. This clock shows the complexity of modern Scottish clocks, and how they have developed from Georgian tastes to this timepiece.
Wanting to see more examples of Scottish clockmaking? We have several examples from 1775 to the 1900s, from the east to the west coast, with all sorts of distinctive features: horn tops, bow doors, flat tops and drum heads.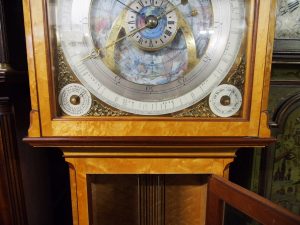 The variety is amazing and the quality is second to none, so if you have some time to spare, feel free to come and see our selection in the warehouse.