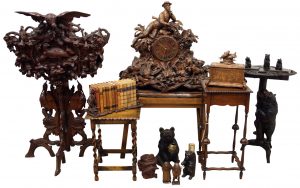 Black Forest carvings usually depict forest animals, particularly bears, and also trees and foliage. A common misconception is that they originate from the Bavarian Black Forest of southwestern Germany, but it has in fact been established that they are the creation of Swiss carvers, originating in the town of Brienz. From humble beginnings of a cottage industry in the early 1800s it grew by the turn of the 20th century to become the major employer of an entire skilled community.

Black Forest carvings are often humorous and whimsical — bears smoking pipes, reading books, and even skiing. Far from being 'mere whimsy' however, the carvings were exhibited at many international exhibitions such as London Great Exhibition of 1851, Chicago World's Fair 1893, and Exposition Universelle Paris 1900. In Europe, they became a symbol of luxury and wealth. Their popularity also grew in many overseas markets, and there was a high demand for these carvings especially depicting American wildlife. Today there has been a tremendous revival of interest for them and the best pieces are highly sought after. Below are some examples:
Carved Mantel Clock (now sold)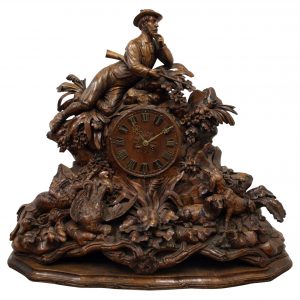 Circa 1880, very stylish Black Forest carved mantel clock of massive proportions. The clock is surmounted by a hunter lying amongst carved rocks and foliage, above a central carved bezel containing the clock which has Roman numerals. Beneath this, the carving continues depicting dogs, game birds, and deer all lying in various positions on a rocky outcrop with heavy vegetation. At the back there is a double hinged door for access to the movement, and it can be seen that the clock and all the carving is made from one piece of wood. The whole piece stands on a simple ogee moulded plinth, which is shaped to follow the form of the carving.
Musical Smokers Stand (now sold)
Circa 1890, very stylish Black Forest musical smokers stand.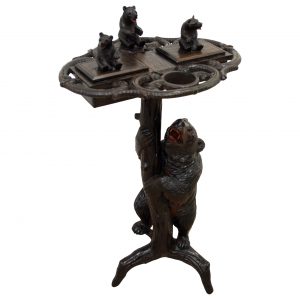 The stand is topped with three realistically carved bears. The two bears at the front are hinged and open to reveal small compartments, and beneath the left one is a box with a winding musical mechanism which plays a tune. The scrolling foliate open fretwork top is supported by a carved tree trunk, with a climbing bear. Its head has glass eyes and is hinged, opening to reveal another storage space for tobacco. The bottom of the tree has a tripod base, again in the form of realistic branches.
Carved Jardiniere on Stand (now sold)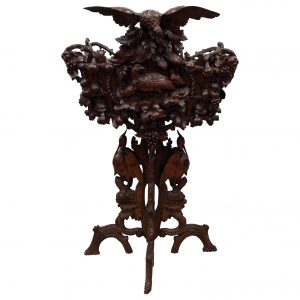 Circa 1880, unusual and stylish Black Forest carved jardinière on stand of massive proportions. The piece is profusely carved all over with various types of foliage. The front is surmounted by a cuckoo bird with its wings outswept. Beneath this is a basket with fruit carvings and a nest with another mother bird and two chicks. The whole piece stands on a rustic faux wood base, with a cluster column with open sections and two carved pelicans on each side. The foliate carving continues down the front, and the base finishes on double quadruple feet all realistically carved in the form of branches.
Pair of Hand Carved Nutcrackers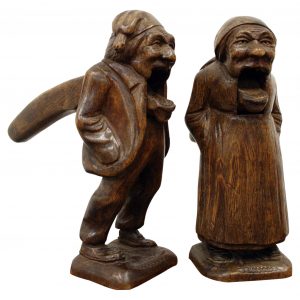 Circa 1900, pair of Black Forest hand carved wooden standing nutcrackers,
in the form of two figures with a lever at the back for opening and closing the mouths to crack the nuts.
Terrier Dog Tobacco Jar (now sold)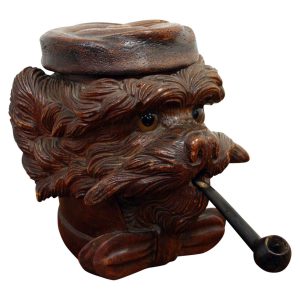 Circa 1890, finely carved Black Forest tobacco jar in the form of a smoking terrier dog with glass eyes, wearing a tasselled hat and a large bow tie. The hat hinges open to reveal a tobacco storage compartment inside.