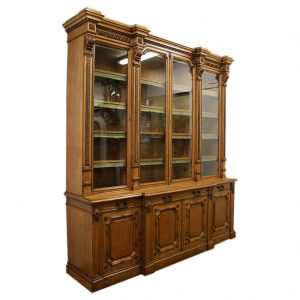 Antique bookcases come in a wide variety of sizes, styles and woods and remain a functional as well as an attractive piece of furniture to grace any home or office.
The four door oak bookcase above was made in Scotland circa 1870.
The classical Georgian Bookcase from the late 1700s is a four door mahogany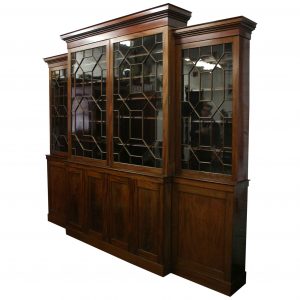 breakfront (i.e. middle section protrudes) bookcase, with astragal glazed bars on the upper section and solid wood panels on the lower doors.
These tall bookcases with doors on the top and base sections are also generically termed as cabinet or library bookcases. The Georgian breakfront style of bookcase with square outlines has always been popular and they continued to be made in the latter half of the 1800s (in Victorian times).
The bookcases were later made using smaller proportions in Edwardian times (circa 1900), sometimes with inlay following the Sheraton style. Some famous cabinetmaking firms such as Edwards & Roberts and Maple & Co of London and John Taylor and Morisons of Edinburgh made some very fine Edwardian bookcases using the highest craftsmanship and the best woods and veneers. The smaller size of these Edwardian bookcases makes them very suitable for some smaller contemporary homes. Few walnut bookcases were made and so they are very desirable.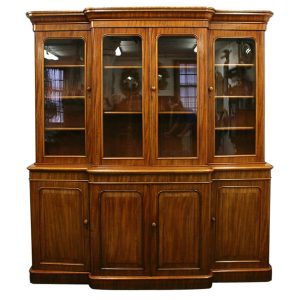 True Victorian style breakfront bookcases, with rounded outlines, plain glazed upper doors and variable amounts of carving were also popular in the 19th century and many were made with the most beautiful figured Spanish mahogany and in oak.  Some similar sized flat-fronted four door bookcases were also made in Georgian and Victorian times.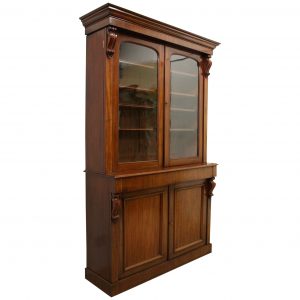 Smaller cabinet bookcases in mahogany or oak usually had two glazed upper and
two wood panelled lower doors and they follow the above Georgian, Victorian and Edwardian styles and their smaller proportions are more suitable for modern homes.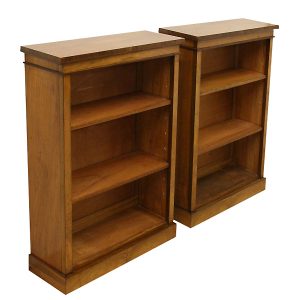 Very few large open bookcases were made and they are subsequently hard to find.  Many smaller open bookcases were made in Victorian times and later. Today, open bookcases are very desirable because of their ease of use. Their more simple lines makes them suitable for contemporary as well as traditional homes.
These bookcases were originally designed in the 1900s
most famously by Globe Wernicke
in the USA and later made in Britain by Glebe. One of their unique features is that they can be adjusted in height by varying the number of sections. Pairs of sectional bookcases can be sourced and look very attractive.