Lapada Object of the Week – SS Lochee Ships Wheel
We were delighted to have our ships wheel featured as Lapada's object of the week this week.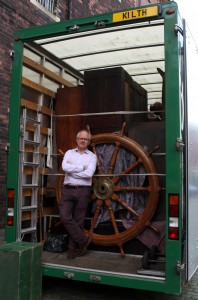 Circa 1851, the year Herman Melville published Moby-Dick, this early Victorian teak and brass bound ships wheel was from the S.S. Lochee, the last sail-powered whaling ship to be built in a Dundee shipyard; the same shipyard which built the HMS Discovery.
The wheel is 6ft in diameter and inscribed at various points around the wheel with sailors' initials and dates giving fantastic character. The wheel is of major historical importance by virtue of its size, where it was made and that it has survived in such good condition. A fascinating piece of history!